My Little Pony: Pony Life
is an upcoming American–Irish animated TV series based on the
My Little Pony
franchise, and is a spin-off of
My Little Pony: Friendship Is Magic
. It is produced by
Allspark Animation
(credited as
Entertainment One
) and
Boulder Media
, and is the newest installment in the franchise. All of the voice actresses for the
Mane 6
were retained.
[1]
Unlike Friendship Is Magic, every episode is in an 11-minute format, but each one consists of two five-minute segments. Every six episodes details a story arc for one of the Mane 6; such as the first six episodes focusing on Pinkie Pie auditioning for the Royal Jelly Juggernaut.
The series premiered on Treehouse TV in Canada on June 21, 2020, and is set to premiere on Discovery Family in the US in Summer 2020.[2]
Plot
"Pony Life relocates the ponies to Sugarcube Corner, a local bakery hangout run by Pinkie Pie, which also houses a mysterious cache of magical potions to be broken out when the need arises."[2]
Cast and characters
Main
History
On October 8, 2019, the My Little Pony Facebook and Instagram released a picture containing the new design of Spike that went mostly unnoticed, before the show's official announcement.
On November 13, a teaser announcing My Little Pony: Pony Life along with the new toyline was uploaded to the My Little Pony YouTube channel.[3] A press release was released that went into further detail about the series including five promotional images. It was confirmed on the same day by writer Whitney Ralls who the rest of the writer staff is.[4]
On January 25, 2020, stop motion shorts started appearing on the My Little Pony YouTube channel to promote the series.
On June 18, a trailer for the series was made public on YouTube, along with the show's theme song and character bios for the Mane 6 (sans Applejack).[5] On the same day, Boulder Media confirmed they were co-producing the show.[6]
On June 25, a "Meet Applejack" bio was finally published, along with a 30-second video about the Sugarcube Corner.
Episodes
Shorts
Broadcast
My Little Pony: Pony Life was initially scheduled to premiere in the United States on Discovery Family on June 13, 2020. However, it was then announced just a few days before that the series was postponed for a later date. The series is still scheduled to premiere sometime in Summer 2020.
In Canada, the show made its world premiere on Treehouse TV on June 21, 2020. In Australia and New Zealand, the series premiered on Boomerang on August 1, 2020.
Gallery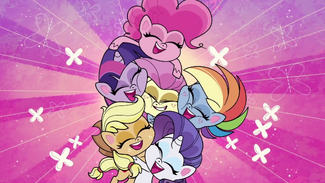 The image gallery for My Little Pony: Pony Life may be viewed here.
Trivia
Videos
References
Community content is available under
CC-BY-SA
unless otherwise noted.